Modern Tiny House Canada ??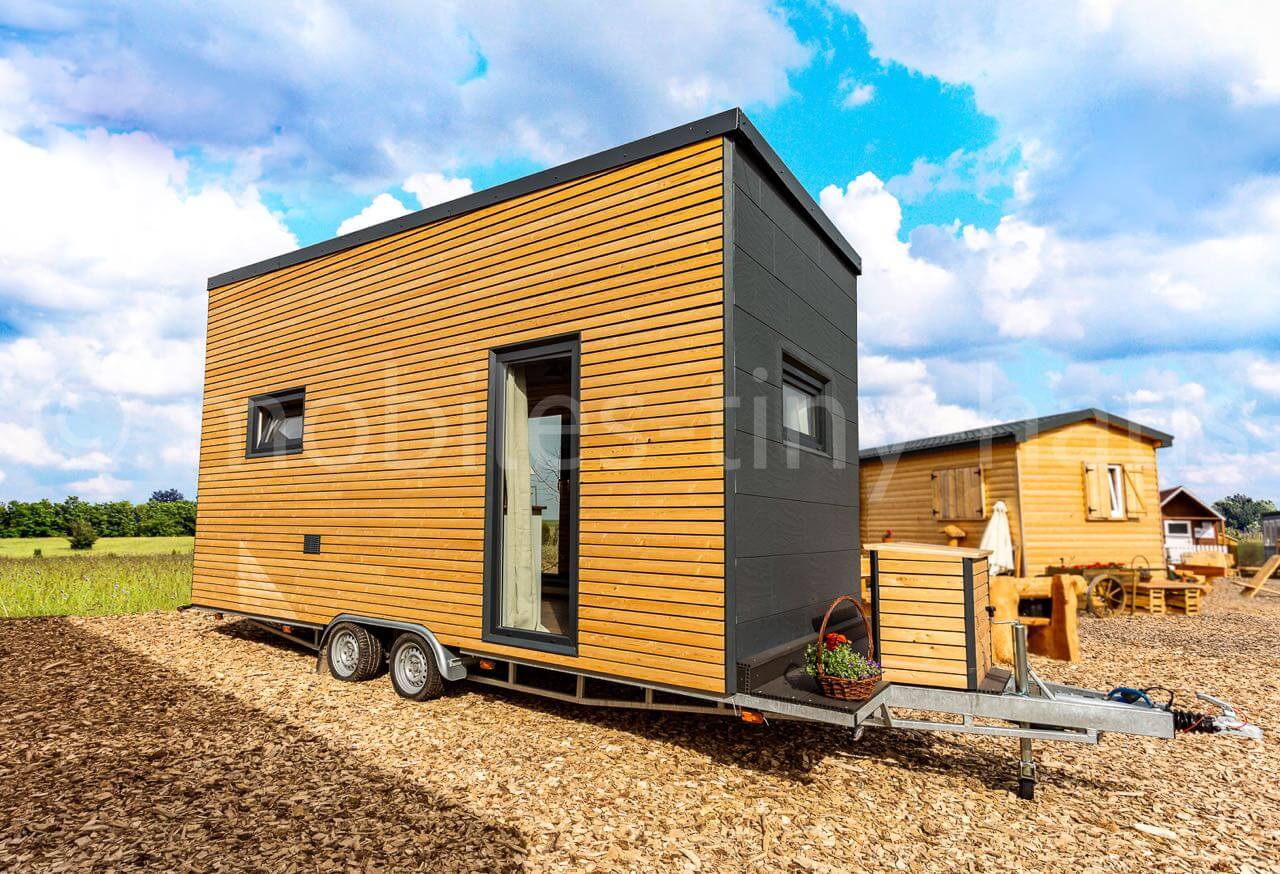 New:  The modern Tiny House Canada is also available without wheels!!
Financing is possible: Why pay a high rent when you could soon own your very own Tiny House?
6-8 m (from 7 metres over 3.5 t) and 2.5 m width
Exterior Siberian larch, interior birch
Flat roof construction
Space for up to 5 people
Incl. kitchen, bathroom and living area
Also available as fixed house without wheels
Heating system infra-red or if desired with self-sufficient package
Modern Tiny House Canada
Our modern Tiny House Canada is built for families and its exterior is made of modern profiles of Siberian larch. The modern Tiny House Canada is perfect for renting out.
The Tiny House has space for up to 5 people. The height and the flat roof construction make for easy access to the second level, the large bedroom for two.
A fixed staircase in cube-form makes for sturdy and sound access. Underneath the sleeping loft there is enough space for a fully equipped bathroom or for a double bed or a U-shaped couch.
On the opposite side of the modern Tiny House, there is a sleeping loft, which is accessed via a fixed staircase or a detachable ladder. A double bed or a comfortable couch can easily be positioned beneath the loft.
If desired, we can integrate a small kitchen unit and a fully equipped bathroom.
The house is available in 6m, 7m and 8 m length and 2.5 m width. If the house is built to be roadworthy, we of course consider the customer's wishes and pay special attention to the weight. The house is then built with 6 m length and a total weight of 3 t. From 7 m the house will be heavier than 3.5 t.
Come home to a place where your heart and soul can find tranquillity.