Order your cosy new home!
FOUNDER
Valeria Feist
mobile phone: +49 (0) 172 – 377 4444
email: info@mobiles-tiny-haus.de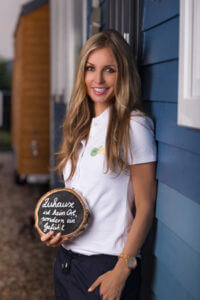 NOTE
Due to high demand, we kindly ask that you only then arrange an appointment with us if you already have a permit for your Tiny House/Mobile Home on the selected plot. Thank you for your understanding.
We charge a fixed sum of 350 € for preparing an individual quote. Included in the 350 € are a complete individual layout planning, an offer preparation according to your wishes, and individual planning of kitchen, bathroom, interior and exterior façade, doors, windows and roof. These 350 € will of course be offset against the purchase price if a purchase takes place.
OPENING HOURS
Our houses can be viewed during the Tiny House exhibition days. Or by appointment.
Follow us on Facebook, YouTube or Instagram:
Write us and share your wishes or make an appointment to view our specimens:
EXHIBITION SITE
Neuer Weg 6a
34289 Zierenberg – Oelshausen Germany
Tiny House exhibition days: 20.01.2019
Please register via e-mail (free of charge): info@mobiles-tiny-haus.de. You can visit us from 11 am – 4 pm on our site and view the following models: Finland, France, Sweden, Canada, Alp-Cabin, Alp rustic, kids' hut, Mobile Home Austria, Mobile Home Canada, Model Office, Model Togetherness.
We look forward to seeing you!
Visit our 1000 sqm exhibition space during our Tiny House exhibition days